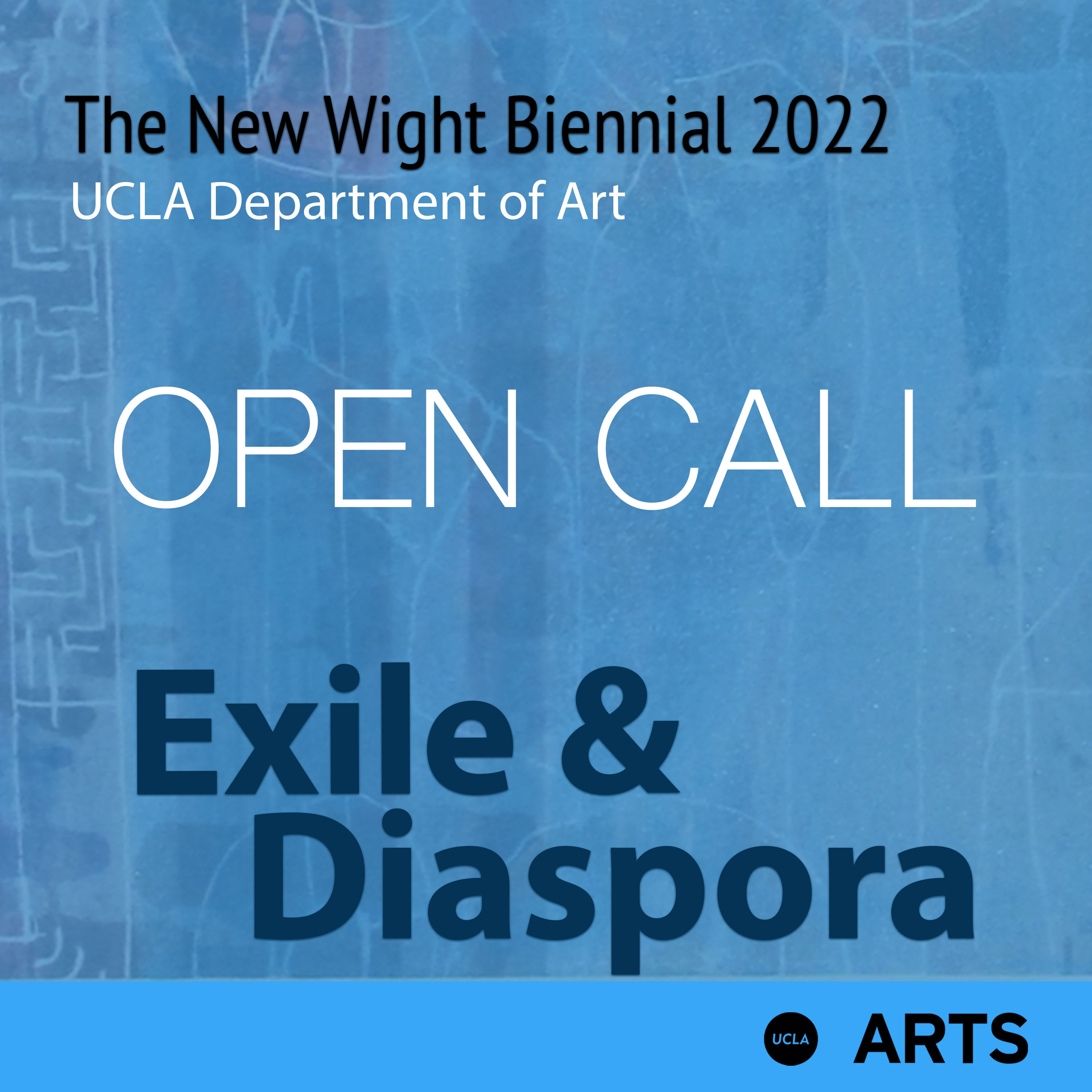 Open Call
EXILE AND DIASPORA: UCLA New Wight International Biennial Exhibition 2022
---
International Call for Submission │Free entry | Deadline June 30th, 2022
Graduate Group Exhibition in Los Angeles, California. September 22- October 6, 2022
Curators: Farshid Bazmandegan and Rachel Hakimian Emenaker
Accepted media: All mediums including 2D & 3D work, photography, video, sound/music, performance, written/research, and social practice.
Each year millions of people will flee their homeland for a myriad of reasons including war, violence, persecution, and political upheaval. Among these people are artists who now live and create in exile. In spite of, and perhaps because of, this act of leaving artists and scholars have continued to create timely and meaningful work across places and borders.
Through this open call, the field of visual, sound, written, and performing arts proposes itself as a place in which testimony and expression of ideas and investigation on the themes of exile, diaspora, and resistance beyond borders are given.
This call is open to individuals whose practice and research involves ideas pertaining to diaspora, migration, and exile.
Programming: Film Screening, Live Performance Event, Publication/Artist Conversations
Entry Requirements: Must be a currently enrolled graduate student anywhere in the world, a recent grad, or enrolling in a graduate program in the fall of 2022.
Submission Requirements:
Maximum of 5 artworks
Artist statement (max 500 words, we are particularly interested in hearing about how you feel your work is relevant to the exhibition)
Image files (jpg only, 72dpi) and/or video links -- Artwork information: dimensions / duration / short description (pdf)
Biography and Resume / CV
Link to artist website or social media
Delivery: Cost of shipping will be covered | applicants will be notified ~ end of July, 2022 through email.
Contact: Please email submissions to or reach out if you have any further questions: uclanewwightbiennial@gmail.com
---
New Wight Gallery
Broad Art Center, Suite 1100
Los Angeles, CA 90095
All attendees must comply with UCLA COVID-19 vaccination, testing, and masking protocols.
The exhibition program of the New Wight Gallery is made possible by the generous support of Dallas Price-Van Breda.
---